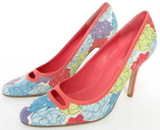 Anyone who knows me at all surely could have guessed that I'd be waxing poetic about shoes at some point.
Round, pointy and peep toed; stiletto, wedge and kitten heeled (yes, ballet flats too) all find their way into my closet to be photographed and stored in their original box when not in use.

Anal retentive you say?

No, really?

What can I say?

I have a bit of a habit, and a very expensive one at that.
Don't get me wrong, I'm no Carrie Bradshaw. Most of my shoes are well-known brands, but I've certainly never purchased, let alone tried on (I'm too frightened that I'd become an even bigger shoe snob) a pair of Manolo Blahnik's or Jimmy Choo's.
I find I'm at my friendliest (which is saying something) when shoe shopping. And I never actually go shoe shopping by the way, I usually just meander away from what I was supposed to be shopping for and find myself in Nine West trying on the cutest pair of orange leather loafers that I have absolutely nothing to wear with.
I've talked women both into and out of buying shoes. I console them when they are sobbing because they're forced to buy a size 11, "Don't worry, sweetie, Steve Madden flats run small, you're not really a glamazon," and reassure them that they really do look fierce in those zebra print stilettos.
There is one thing that I find I have a difficult time being honest with other woman about whilst in my happy place, but it needs to be said. There's nothing that makes me more disturbed than a woman teeter-tottering her way up the street in a pair of new shoes. If you feel like an moron walking in them, odds are you look like an moron walking in them. I guarantee that when you're clumsily making your way through a crowd thinking everyone must be staring at your fantastic new pumps; they're actually staring at how ridiculous you look, and comparing you to their four-year-old playing dress up.
So here it is. I know those are the most ab fab shoes you've ever seen, and you probably have the perfect top to wear them with, but listen carefully, muffin: if when you try those pretty little pumps on in the store you feel yourself wobble, don't you dare leave with them. Put them back on the shelf and leave them for the big girls to play with.
No, not even if they are on sale.