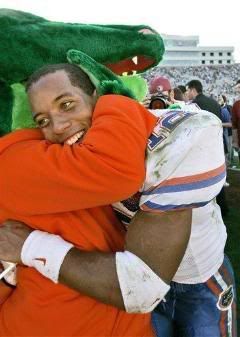 I am going to wax poetic about the Florida Gators. Yes, I'm still a girl.
My husband and I both graduated from the University of Florida (feel free to visit UF's website - it's linked at the left of the screen), and we both remain loyal fans of all things Gator. It's difficult to describe to someone who didn't attend a large public university like Florida, Michigan, Texas or OSU just exactly what it's like to be a part of something really big. Wait, I mean HUGE. 50,000 students huge. 2,500 acre campus huge. 96,000 seat football stadium huge. Even the cockroaches in Gainesville are gigantic, and seemingly immortal (that's another post). But what's really big is the collected pride that the millions of fans of these colleges and their sports teams feel each and every day of their lives. When someone says, "I bleed Maize and Blue", it's not just some cutesy phrase that gets tossed around lightly...they really mean it. And they live and die by the fortunes, and misfortunes, of their teams.
So, the Gators. The Gators are my team, and I love them. I love how I can be in a terrible mood, surrounded by piles of meaningless work, and at my wits end thanks to the stupidity of one co-worker (oooh, that would be yet
another
post), only to read on ESPN.com that Gators basketball coach Billy Donovan has decided to remain at Florida instead of even entertaining an offer from archrival Kentucky, and instantly feel positively giddy. I get chills when I hear about the amazing, historic accomplishments of the Gator basketball and football teams over the past year, and I get choked up thinking of how much I miss the environment surrounding UF. There is a brief period in each of our lives, when we're at just the right age, when we're in just the right place, and we're surrounded by just the right people, when we come close to touching perfection.
For me, it was the years I spent in Gainesville.